The Embassy,
Illuminated Fools,
and
The Tuna Guys!
Theme camps Page!
Located at 4:30 and Esplanade.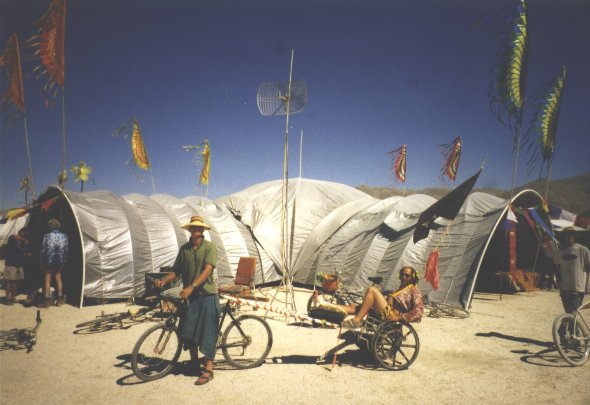 The Embassy will be headed back towards the Black Rock Desert for the fifth year in a row in order to represent our own unique of brand of quality festing, albeit with that Burning Man twist. Truth be known, we relish the opportunity to let our hair down even further than is possible at our own slightly more family orientated event.
At the heart of our camp is our beloved spacious gamma ray defying silver space structure. We welcome parched playa nomads into its shade with a variety of services that include water and tea, snacks, a massage area, costume lending, and minor first aid. At various times we will feature our Eastern flavored house band "Land of the Blind", drumming, belly dancing, fire spinning, as well as other potential acts.
Next to that the Illuminated Fools add a whimsical vaudevillian flair to our entire camp with their boundless creative antics. Giant puppets will be strolling the playa and they will also be conducting lantern workshops during the day. When night falls professionally staged and sexually charged shadow dancing commences.
The Tuna Guys, who have been a satellite of our camp for years, return fully licensed to share and trade over seven hundred pounds of fresh barbecued Albacore.
The Hell's Fairies will be in attendance with their finely crafted mutant bicycles, continuing to organize insane rides that have been known to---in their own minds at least--- temporarily disrupt the space-time continuum around the playa. Bike tools, parts, and mechanics will also be available to help other bicyclists along their way.
Brad Templeton will again display his very interesting large 360 degree panorama photographs of the past five Burning Man events in an installation kiosk. He will continue to annually add to this valuable historic record.
On the Playa will be constructed a giant 18 foot high stellated icosohedron. Bedecked in colorful fabric it will be eye catching from great distances as well as providing much needed shade. In keeping with this year's nautical theme it will be known as the Pole Star.
Perhaps the most critical overall service that the OCF Embassy provides to the Black Rock City community is internet service. Working in conjunction with the Burning Man communications staff, our expert computer personnel---including Clif Cox and John Gilmore---provide the equipment and expertize needed to create the high speed satellite uplink that has become a necessary to communicating with the outside world. A Satellite uplink and 802.11b network are used to cover all of Black Rock city. There are several public access locations, including the one in our camp, allowing citizens to check their email, surf the web, or have Internet enabled art. More detailed information about this service can be found here.

Thank you for your consideration in the placement of The Embassy during upcoming Burning Man 2004. We like to think that our ever growing presence and energy continues to be a worthwhile addition to this event as well as for the link it creates between our two sister organizations. Looking forward to a raging good time.
Lets get organized!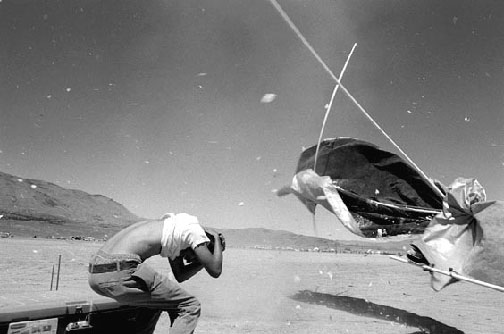 Don't let this happen to you!